DENALI, KLONDIKE HIGHWAY, YUKON & INSIDE PASSAGE
The best of the best by land and sea – from Southcentral Alaska to Canada's Yukon Territory and southeast Alaska's Inside Passage. Experience wildlife, glaciers, Gold Rush era history, Iditarod, Denali, Klondike Highway, and wilderness on our most rounded guided tour.
View wildlife in Denali National Park and glaciers in Tracy Arm Fjord
Experience Alaska Railroad GoldStar service and White Pass & Yukon Route
Travel the Klondike Highway to Canada's Yukon Territory
Visit Diamond Tooth Gertie's and dredge for gold in the Yukon
Whale watching in Lynn Canal, Icy Strait, and Stephens Passage
Visit museums, a dog sledding kennel, and Icy Strait Point
Included land highlights:
Anchorage + City Tour
Anchorage Museum Visit
Denali National Park Wildlife Tour
Alaska Railroad – GoldStar Service
Fountainhead Antique Auto Museum
Exclusive Trail Breaker Kennel Experience
Travel the Klondike Highway and Top of the World Highway
Gold Rush Mine Tour & Gold Panning
Diamond Tooth Gertie's & Cancan Show
White Pass & Yukon Route
Whale Watching in Southeast Alaska
Icy Strait Point & Mountaintop Gondola
Tracy Arm Fjord & Twin Sawyer Glaciers
Orca Point Lodge Alaska-style Feast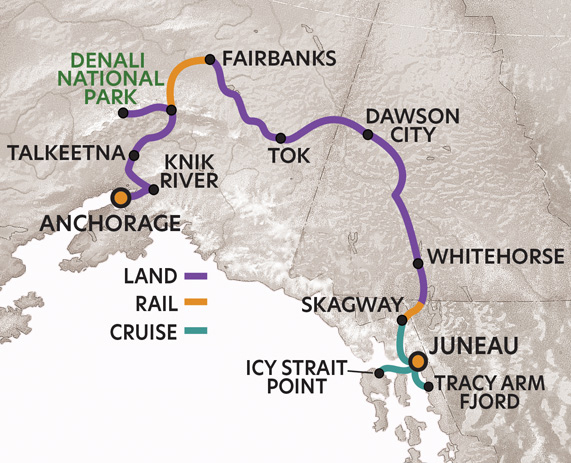 Accommodations:
1 Night – Hotel Captain Cook, Anchorage, AK
2 Nights – Knik River Lodge, Palmer, AK
2 Nights – Denali Bluffs Hotel – Riverview, Denali National Park, AK
1 Night – Bear Lodge, Fairbanks, AK
1 Night – Young's Motel, Tok, AK
2 Nights – Eldorado Hotel, Dawson City, YT
1 Night – Edgewater Hotel, Whitehorse, AK
3 Nights – Aspen Suites Hotel, Juneau, AK
More About Accommodations
Active Rating:
MOST MOBILITY LEVELS
Must be able to walk up one flight of stairs
Included Meals:
38
Breakfast, lunch, and dinner on full tour days + arrival day dinner, departure day breakfast
Itinerary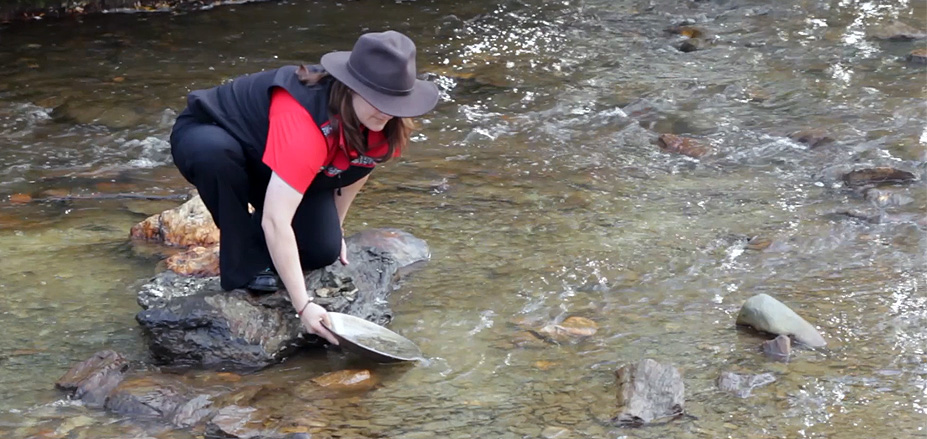 Welcome to the metropolitan city of Anchorage, Alaska! A John Hall's Alaska representative greets you on arrival and escorts you to your luxury accommodations for the evening. Anchorage has much to offer if you wish to explore. Dinner is at your leisure.
Dinner | Overnight: Hotel Captain Cook
Day 2
ANCHORAGE & KNIK RIVER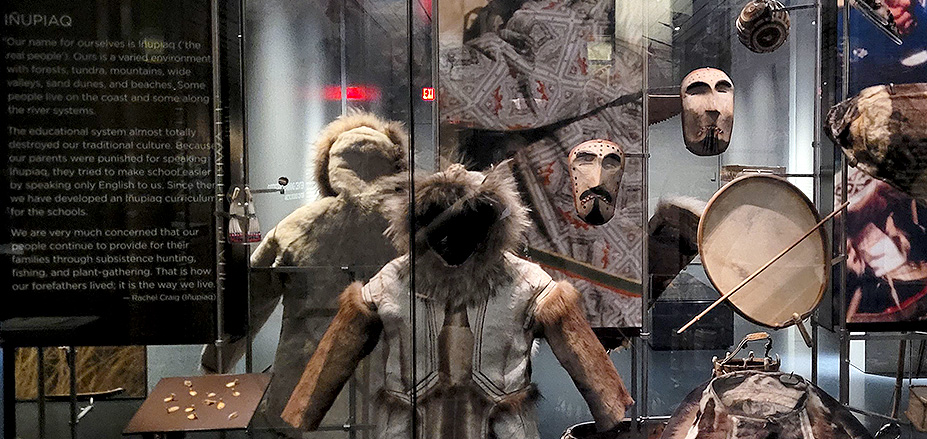 Start the day with a city tour and visit the colorful Anchorage Museum, then journey north aboard your luxury motorcoach to the Knik River Valley – a secluded, hidden gem nestled in the Chugach Mountains. Following along Knik Arm and the Knik River, stop at scenic overlooks en route to Palmer, Alaska. The evening's reward, wilderness outside, world-class inside – snuggle up in your private plush wilderness cabin.
Breakfast, Lunch, Dinner | Overnight: Knik River Lodge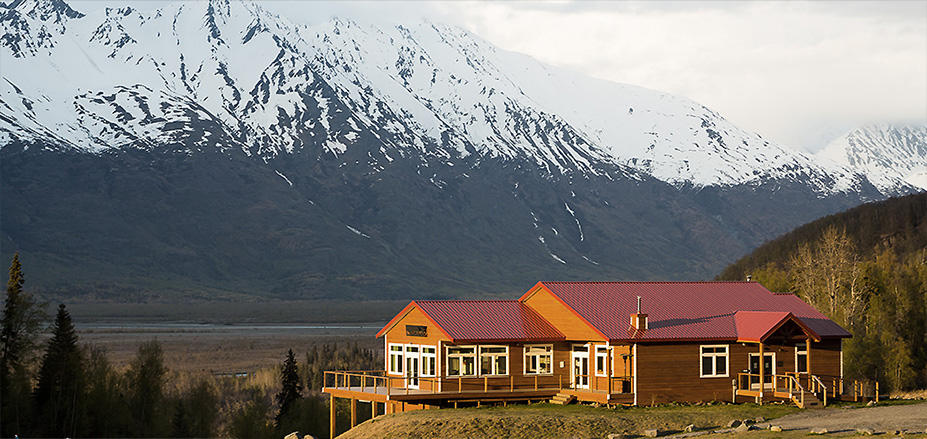 Surrounded by vast forests and mountains, begin the day with a warm meal in the lodge. Take in the beauty from the deck of your cabin, observe helicopters landing on the beach, then head out for a hike or consider an optional flightseeing glacier tour. Relax away the evening in this peaceful, mountain-view getaway.
Breakfast, Lunch, Dinner | Overnight: Knik River Lodge
Day 4
TALKEETNA & DENALI NATIONAL PARK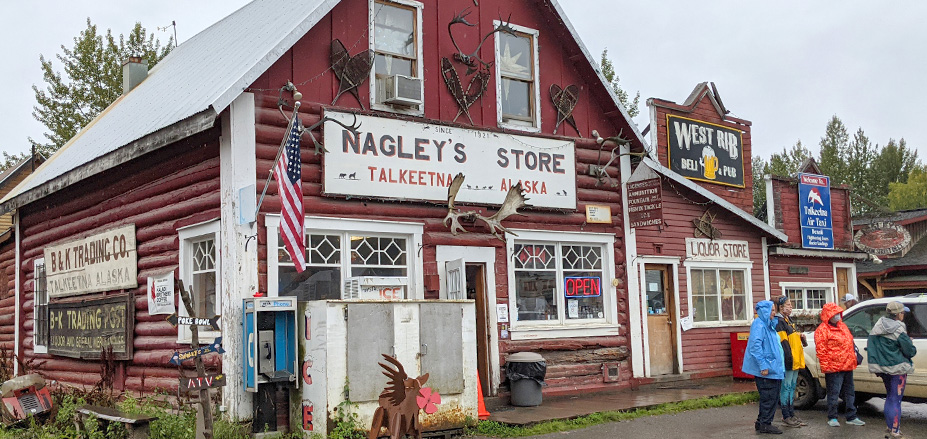 Today's travels take you farther north to Talkeetna, located at the confluence of three rivers, the Susitna, Chulitna, and Talkeetna. Listed on the register of National Historic Places, there is time in town to explore its early pioneer roots or take in an optional activity. Your accommodations this evening sit near Denali National Park and Preserve.
Breakfast, Lunch, Dinner | Overnight: Denali Bluffs Hotel, Riverview
Day 5
DENALI NATIONAL PARK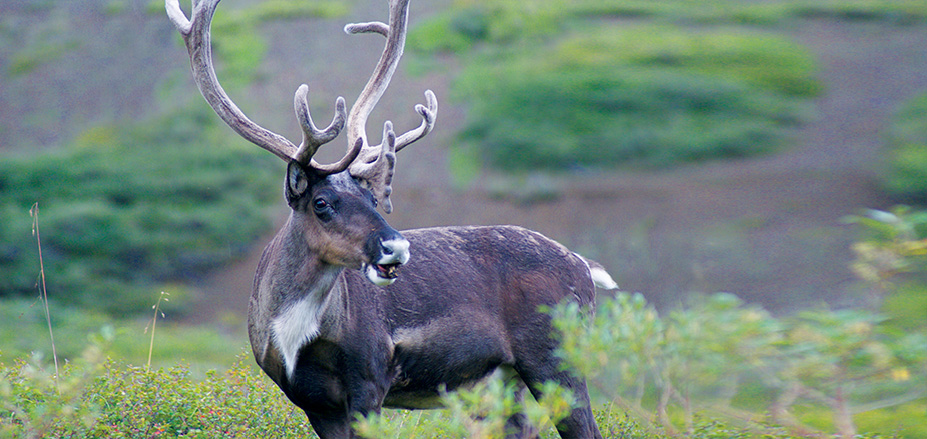 The sun rises early in Alaska, and chances are high you will too! Today, board a sightseeing bus and venture 42 miles deep into the outback of Denali National Park. Be sure to bring your camera and binoculars! During the drive be on the lookout for moose, caribou, Dall sheep, wolves, grizzly bears, and of course Denali – the highest mountain peak in North America. This evening, enjoy Chef Laura Cole's celebrated creations with dinner at 229 Parks.
Breakfast, Lunch, Dinner | Overnight: Denali Bluffs Hotel, Riverview
Day 6
DENALI, ALASKA RAILROAD & FAIRBANKS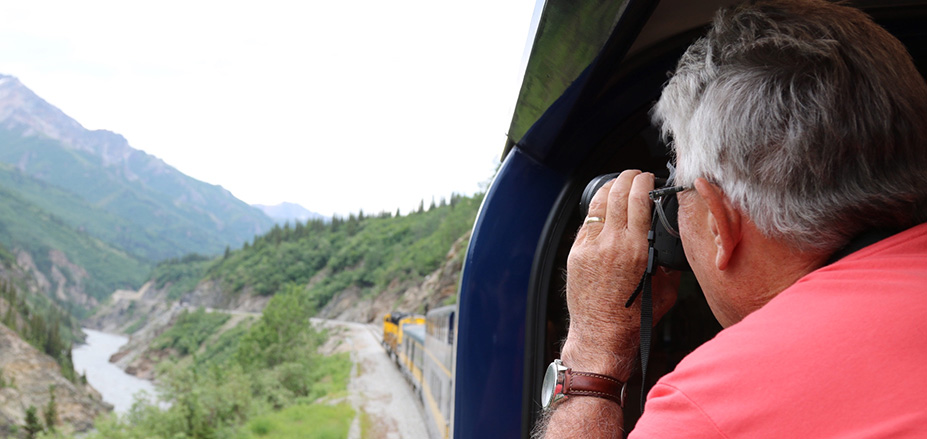 From sunup to sundown, it is a day of eye-popping scenery! There is one last chance this morning to explore Denali National Park with an optional adventure activity. This afternoon, board the glass-domed cars of the Alaska Railroad for a luxury GoldStar experience to Fairbanks with dinner served on board. The train's glass-domed cars offer top-notch viewing along a spectacularly scenic route.
Breakfast, Lunch, Dinner | Overnight: Bear Lodge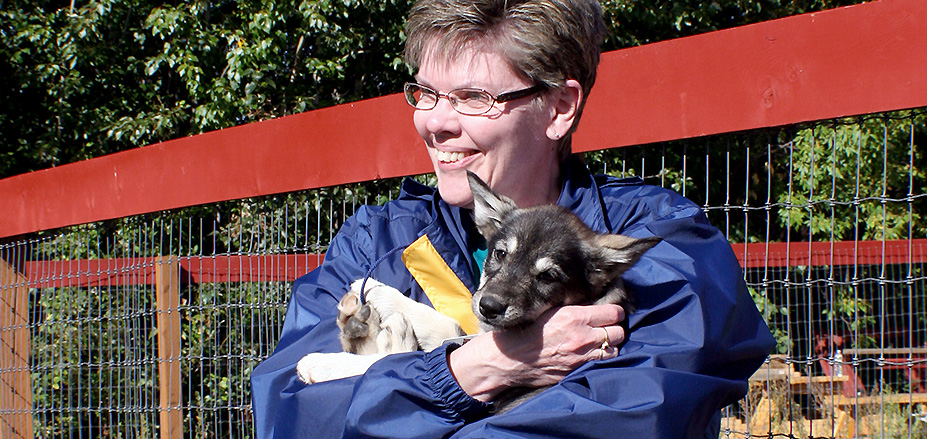 After a hearty breakfast, off you go to view vintage treads and threads at Fountainhead Antique Auto Museum, home to a world-class collection of vintage automobiles and fashions. Afterward, visit Trail Breaker Kennel – home of the late four-time Iditarod champion Susan Butcher – for an exclusive look at kennel life and a dog mushing demonstration. After lunch and time with the pups, it is time to board the motorcoach. The day's end destination is Tok.
Breakfast, Lunch, Dinner | Overnight: Young's Motel
Day 8
TOP OF THE WORLD HIGHWAY & DAWSON CITY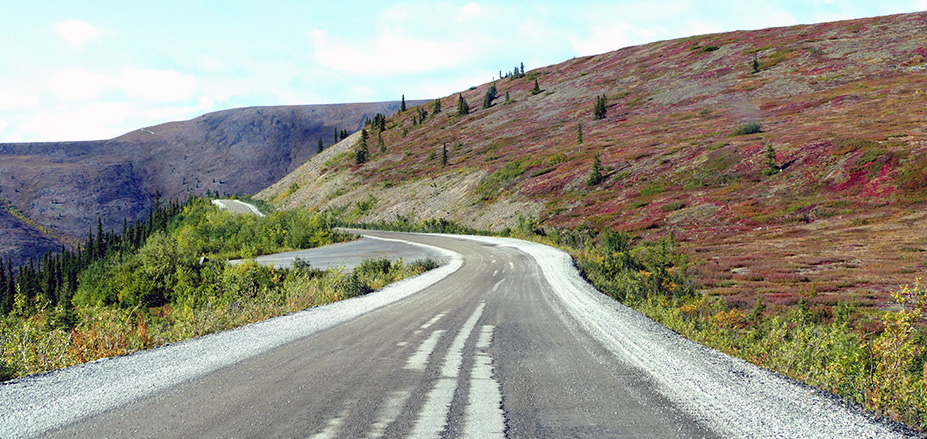 A full day of driving requires two things, top-notch scenery, and a luxury ride – you have both. Settle in, your route runs parallel to the majestic Alaska Range, one of the higher ranges in the world after the Himalayas and the Andes. The last stop before crossing the Canadian border is the busy metropolis of Chicken, Alaska (population 12), then join the Top of the World Highway. Arrive in Dawson City, Yukon, and enjoy two nights in this historic town.
Breakfast, Lunch, Dinner | Overnight: Eldorado Hotel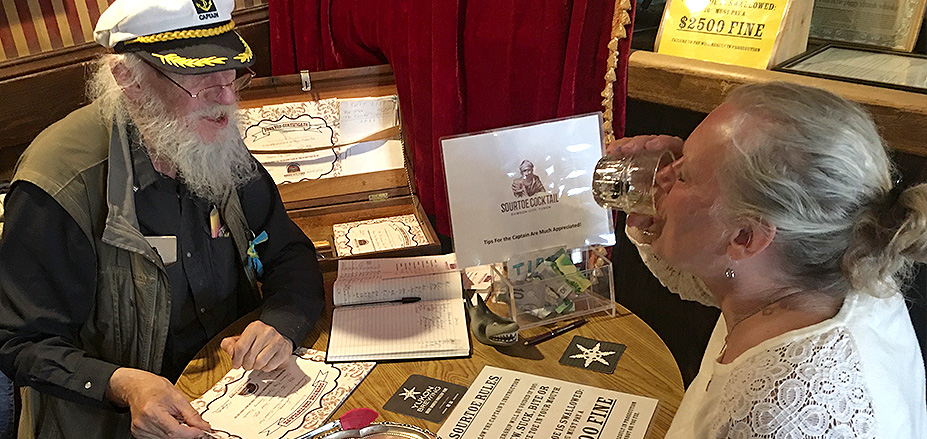 Back in the day, Dawson City was the center of the Klondike Gold Rush. Learn the town's history on a tour, and at Goldbottom Mine, the only authentic operating placer gold mine in the Klondike, learn about everything from staking a claim to selling gold. Like the old-timers, you have a chance to pan for gold and strike it rich in the mine's historic gold fields! At Diamond Tooth Gertie's Gambling Hall, you could win big, take in the included Cancan show, and try the famous Sourtoe Cocktail challenge.
Breakfast, Lunch, Dinner | Overnight: Eldorado Hotel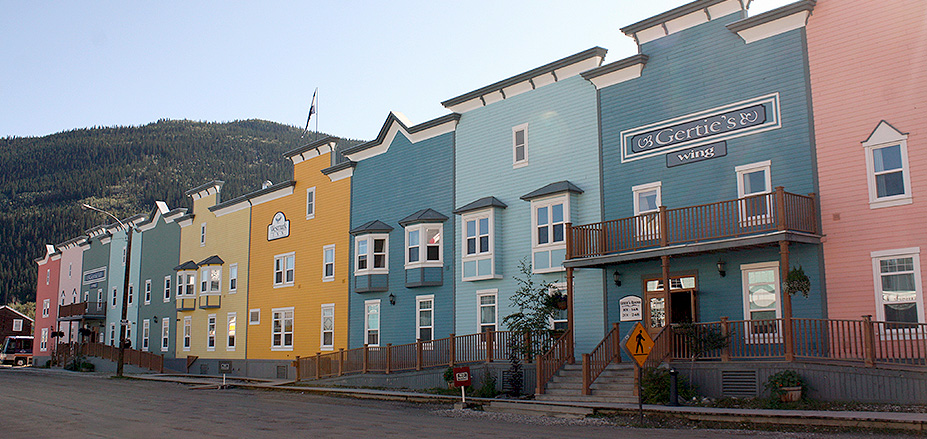 Witness Moose Creek, Pelly Crossing, and Five Finger Rapids on the way to Whitehorse – named after the White Horse Rapids and their resemblance to the mane of a charging horse. With the discovery of gold in 1896, by 1897 crowds of stampeders had arrived by steamship and set up camp. During their hunt for gold, they also discovered a rich copper belt in the surrounding hills. Spend your evening strolling the streets of Whitehorse, located on the banks of the Yukon River.
Breakfast, Lunch, Dinner | Overnight: Edgewater Hotel
Day 11
SKAGWAY & LYNN CANAL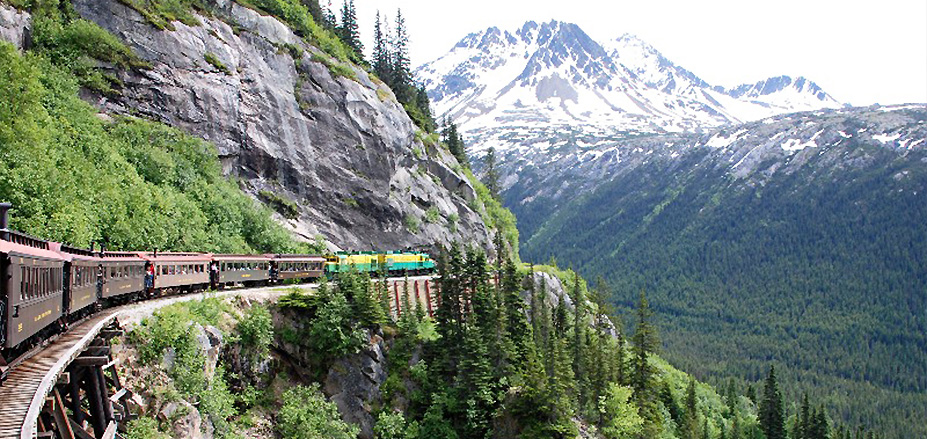 Leaving Whitehorse, arrive in Fraser, BC, and board the White Pass & Yukon Route Railroad for an incredibly scenic journey that drops 3,000 feet in elevation in just 20 miles! Built during the 1898 gold rush, travel the trail of long-ago fortune seekers to Skagway. Take in the town's historic sights, then mid-afternoon board a privately chartered day vessel for a sail through the Lynn Canal. Keep watch for orcas and humpbacks as you make your way south to Juneau.
Breakfast, Lunch, Dinner | Overnight: Aspen Hotel & Suites
Day 12
ICY STRAIT POINT & WHALE WATCHING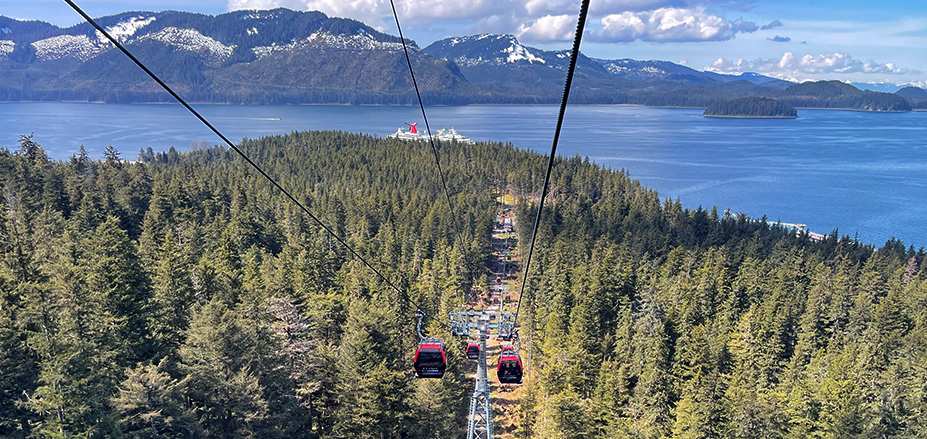 Today's treat is Icy Strait Point, an Alaska Native-owned-and-operated port on Chichagof Island. Ride the Transporter and Mountaintop Gondolas and take in the majestic views. While in port, tour the cannery, take a beach walk, and enjoy a Native cultural dance performance. Sail through rich feeding grounds of humpback and orca whales. Each season they beeline it here to feed on krill, zooplankton, and herring. Camera at the ready, keep your eyes on the horizon as you return to Juneau.
Breakfast, Lunch, Dinner | Overnight: Aspen Hotel & Suites
Day 13
TRACY ARM & ORCA POINT LODGE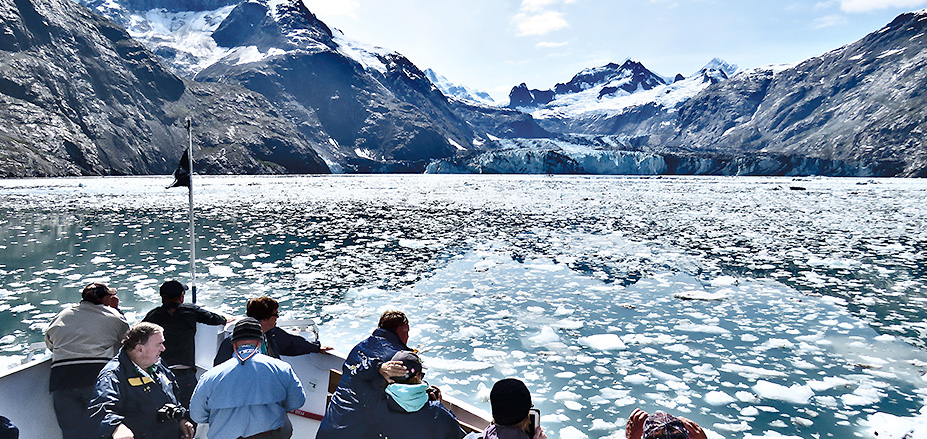 A showstopper of a day wraps up the tour! Set sail for Tracy Arm Fjord – the heart of the Tracy Arm-Fords Terror Wilderness – and the twin Sawyer Glaciers. Cruise pristine waters with lunch catered on board while exploring the area's waterfalls, glaciers, and icebergs, and watching for marine life, harbor seals, Arctic tern, and mountain goats. Enjoy a special Farewell Dinner at Orca Point Lodge – an Alaska-style feast, and of course s'mores over a beach campfire – before returning to Juneau.
Breakfast, Lunch, Dinner | Overnight: Aspen Hotel & Suites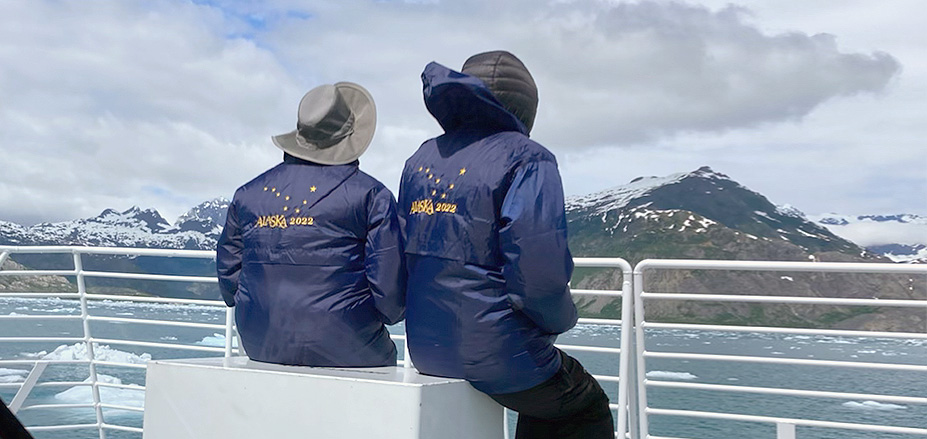 After one last breakfast with your new travel mates, transfer to the airport for your homebound flight.
Breakfast
Departures and Pricing
Per Person Pricing IncludesAccommodations; fully-guided service; luxury land and privately chartered small vessel transportation; airport transfers; activities and tours; meals, baggage handling, and corresponding gratuities; taxes; and personalized John Hall's Alaska's trademark windbreaker.
June 5, 2023
1898 ALASKA & YUKON GOLD RUSH14-Day Land Tour
June 5 – June 18, 2023
Double Occupancy:
$10,599
Single Occupancy:
$12,299
July 30, 2023
1898 ALASKA & YUKON GOLD RUSH14-Day Land Tour
July 30 – August 12, 2023
Double Occupancy:
$10,599
Single Occupancy:
$12,299
2023 Tour Savings
Booking Discount – Book by January 31, 2023, to SAVE $500 per person on your John Hall's Alaska land tour, or SAVE $800 per person on a land tour + cruise package.
Check Discount – SAVE $200 per person when you pay your tour balance by check or cash versus credit card! $500 per person deposits may still be made by credit card.
Group Discount – SAVE $50 per person with 2-3 rooms booked; SAVE $100 per person with 4-7 rooms booked. SAVE $150 per person with 8-11 rooms booked; SAVE $200 per person with 12+ rooms booked. Group discount applies to the first 2 individuals in each room only.
How To Reserve This Tour
A deposit of $500.00 USD per person is required within ten days of booking your reservation. Deposits are fully refundable up until 90 days prior to departure.
Mastercard, Visa, Discover, American Express, and personal checks are acceptable forms of deposit payment. To confirm your space by credit card, please contact our office: 800.325.2270. Alaska Specialists are available for tour bookings 7:30am-5:30pm M-F and 8am-4pm on Saturday.
Arranging Your Flights
LAND: This tour begins in Anchorage, Alaska and ends in Juneau, Alaska. On Day 1, flights should arrive in Anchorage by 6pm; early check-in cannot be guaranteed before 4pm. On Day 14, flights may depart Juneau after 8am.
Related Tours
THESE EXCEPTIONAL ALASKA PACKAGES MIGHT INTEREST YOU, TOO!