Perfecting Your Alaska Winter Tour
Visiting Alaska during the winter months is truly a unique experience; however, it takes some extra planning and perfecting to make the most of your Alaska winter tour.

Below is an expert list from our team to help you plan and understand winter in Alaska.
Alaska Winter Tour: Viewing Northern Lights
Most winter Alaska visitors will expect to enjoy a grand Northern Lights display while visiting. This is completely possible if you set yourself up to be in the right spot at the right time. A grand display depends on three factors: atmospheric conditions, clear skies, and limited city light pollution.

First, you need to know when atmospheric conditions are right for a bright display. Simultaneously, you will need to know which hours of the night are predicted to be clear and not cloudy. Clear Dark Sky updates a daily chart with each hour of the day and what to expect for light and cloud cover conditions. Once you have a night with great atmospheric conditions and you've selected the best hours for clear skies, you need to travel outside of the city to eliminate city light pollution.
Alaska Winter Tours: Best Winter Months For Out Of State Visitors
Winter tourism in Alaska is focused around the festivals that happen from late February through March.
Iditarod
The state of Alaska is home to the Iditarod, which comes with its own host of celebrations. It begins with the Musher's Banquet and Iditarod Ceremonial Start in Anchorage providing opportunities for visitors to chat with mushers. The Ceremonial Start allows you the chance to observe dog teams as they gear up and get ready to race.
Experiencing the Iditarod first-hand is a once-in-a-lifetime experience for any visitor!
World Ice Art Championships
Ice Sculpting in Interior Alaska is a tradition that began with the early celebrations of spring. The practice involves artists who use ice to create sculptures and other items through friendly competition.
In previous years competitors have come from 45 different countries to Fairbanks, AK to take part in the World Ice Art Championships and display their pieces created on site during the festival.
Fur Rondy
Usually the last week of February, Alaska begins to celebrate a 10-day cultural mishmash called Fur Rondy also known as, Fur Rendezvous. This exciting, winter festival in Anchorage celebrates life in Alaska through sports, Native arts, and fun family activities. Fur Rondy dates all the way back to 1935 and attracts visitors from all over the world!
Other Things To Do In Alaska In Winter
Dog sledding
Snowmobiling
Ice fishing
Skiing and snowboarding
Flightseeing
Cross-country skiing
Ice skating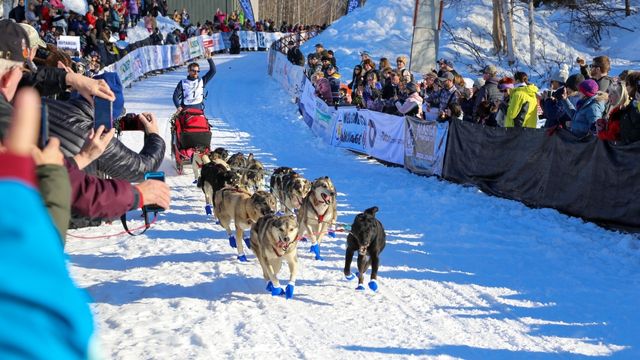 Alaska Winter Tours: Weather, Temperature & Conditions
If you are worried about the temperatures during your Alaska winter tour, don't be. Winters in southern Alaska tend to be relatively mild, and John Hall's Alaska guests will be gifted with black, sub-zero jackets.

Late February and March are great times for another reason – sunlight! Days have grown long enough to supply visitors with 9-13 hours of daylight, plenty of time to get outside and have some fun.

Packing For Your Alaska Winter Tour
Packing for your time in Alaska during the winter months can be tricky but we're here to help. Head over to our Alaska Packing Guide page for a detailed list.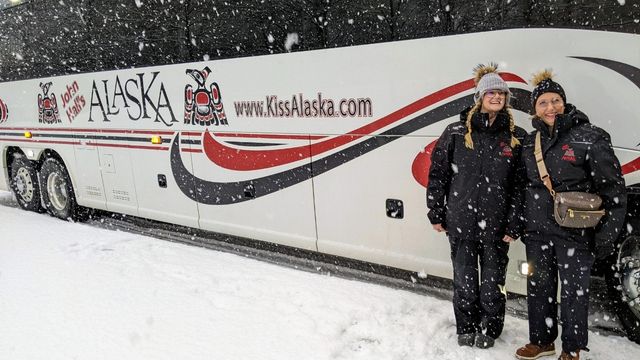 John Hall's Alaska Winter Tours
We know Alaska because we live here, work here, and guide here! We can match your time frame and interests to one of our amazing itineraries or help you to customize your own Alaska experience.
You Can Find This Year's Alaska Winter Tours Here:
Iditarod & Aurora Adventure – Be a part of exciting Iditarod action! From meeting the mushers and watching the start of the race, to a flight out to an Iditarod checkpoint, interact with and experience first-hand this legendary event. Northern Lights viewing and ice sculptures round out this inclusive tour.
Alaska's Winter Wonders – Fun for all ages and a photographer's dream! Experience the magic of winter on this inclusive tour. Witness the Northern Lights, test your curling and dogsledding skills, and go flightseeing over Denali – North America's tallest mountain.
Overview: Perfecting Your Alaska Winter Tour
Winter in Alaska brings a whole new level of excitement for locals and visitors alike. Not to mention, there are many wonderful things to do during the winter that you may not get to experience during other seasons. Don't miss out on the unique and exclusive opportunities that winter in Alaska has to offer!